Peer Assessment made easy
Many instructor believe Peer Assessment to be a great tool in evaluating student performance. However this can be one of the most challenging part of being an instructor. Now with MyPeer Evaluation tool, peer assessment can easily be done no matter how big your class is. Start NOW.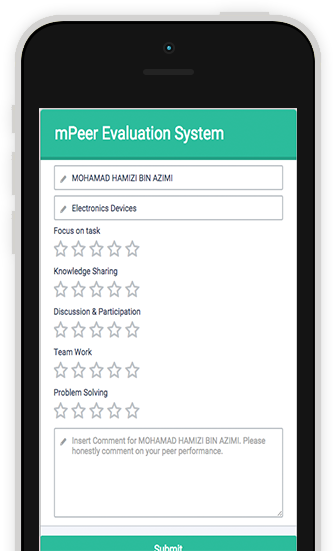 Clean & Simple Peer Assessment system
MyPeer has been designed to be clean, simple and easy to use for both Instructors and Students.
Easy for Instructors
Import new courses or assignment with CSV or XLSX format. Export list of calculated marks (Auto Rating) for further processing in Excel.
Easy for Students
Straight forward and clean form make it easy for student to evaluate their peers.
SmartPhone ready
MyPeer is designed for smartphone, making it easy for student to mark their peer anytime and anywhere.
The easiest way to manage students group marks
With MyPeer, instructor can automatically get final marks calculated using Auto Rating method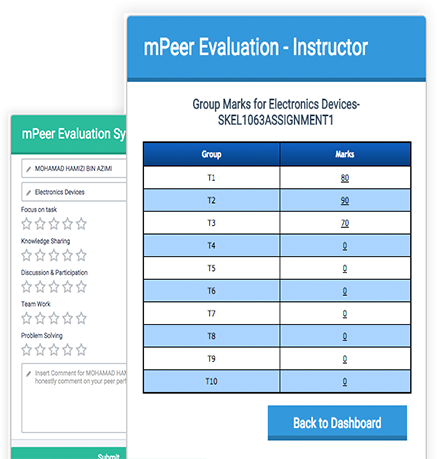 A fair way to adjust student assignment marks with peer review
Adjustment factor will be used to revise group marks to ensure student get what they deserve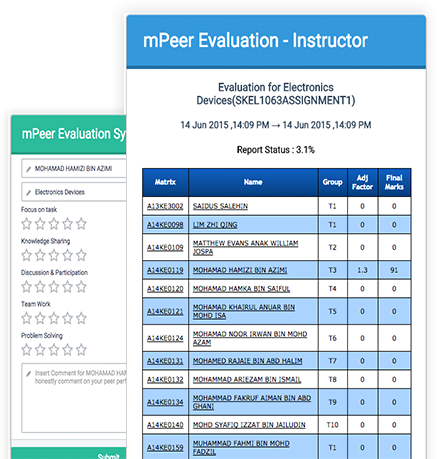 The easiest way to share your feedback
MyPeer provide individual feedback for each students. The feedback can only be seen by the right students it is intended for